February 2009
Long Island Sound
It was on an exceptionally cold winter day that a colleague and I chose to ride out to Long Island to visit the sound studio of Kevin Tellekamp. Kevin is the president of Silent Running Audio (SRA), which, to use the company's own marketing verbiage, is a "designer and manufacturer of smart isolation systems." "Don't worry about the cold," Kevin assured us, noting that the studio is filled with all types of heat-producing audio gear, including a massive pair of mono tube amps. So off we went.
SRA is not merely a manufacturer of audio isolation equipment. Its roots lie in the design and manufacture of acoustical and vibration products and solutions for the electronics, military and aerospace sectors. Among many other things, the company designs and manufactures isolation systems for nuclear submarines and advanced fighter jets, and it was part of NASA's zero-gravity isolation program. This is one audio-rack and -platforms manufacturer that comes with some serious street cred.
Apparently, however, working for entities such as the US military and NASA brings with it a few complications every now and then. For example, the only way we would be able to have a tour of the SRA factory would be to obtain government security clearances. The last time I checked, with all the stuff going on in the world, such clearances are not being handed out willy-nilly to audio reviewers.
Instead, we visited Kevin's sound studio, which is close to his factory. The studio occupies an entire one-room building, which is about the size of a typical backyard pool house. However, to call it a studio is a bit misleading. This is an extremely high-tech sound laboratory that has been built almost without regard to cost. The technical goals of the studio do not, according to Kevin, greatly differ from the approach that SRA takes in designing isolation products: Pay attention to the details, no matter how small; validate the performance characteristics of each and every relevant variable (including the audio components) and the synergies that they have with each other; then test and retest, while taking corrective action along the way.
In more practical terms, however, the studio makes for a great place to listen to music. It's the perfect getaway.
The first thing that we noticed when we entered was a stunning pair of Tenor Audio 75Wi fully balanced mono OTL tube integrated amplifiers. The amps were floating on a pair of Ohio-Class XL+² isolation platforms that were finished in high-gloss terracotta. Each sat near the middle rear of the room between two Verity Audio Sarastro II speakers.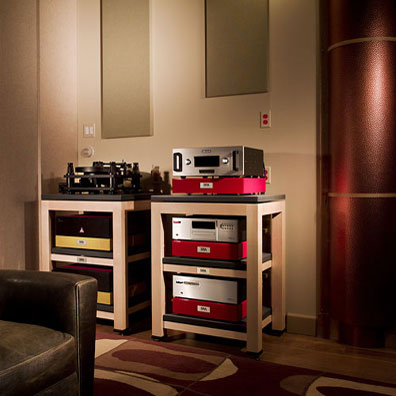 Photos by Robert Moore suntumoore@gmail.com
On the left of the room sat a wall of gear, including an EMM Labs CDSD Signature transport with a matching Signature DAC 6 digital-to-analog converter. But maybe digital is not your bag. Kevin also had an SME Model 30/2 turntable with an SME tonearm and a Dynavector XV-1S cartridge. Close by was an Aesthetix Io Signature phono stage (packed with a plethora of high-dollar tubes) and its matching separate power supply. Topping off the list of top-notch components was an Audio Research Reference 3 preamplifier. The speaker cables and interconnects were AudioQuest's Sky and William E. Low Signature, respectively. Power cords were made by Jena Labs.
After cursorily eyeballing Kevin's equipment, I foolishly thought that I might be able to suggest something to him that would improve the system's performance -- I asked him if he ever considered using a power conditioner. "I don't think I really need one" Kevin responded. You see, Kevin was somehow able to persuade the local power company to give him his own dedicated transformer on the nearby electric pole that carries AC power to the studio. (It never hurts having connections -- no pun intended!). After hearing this and listening to the dead-quiet nature of his system, I had no choice but to agree.
Speaking of AC power, each of the thirty AC wall outlets were wired to their own 20-amp breakers via its own "home run," which is a direct wire run from an outlet to a breaker. The exception to this is that each of the mono amplifiers runs at 240v and are wired to their own dedicated 30-amp breakers.
Collectively, over 2000 feet of rather expensive hospital-grade BX cable was consumed during the wiring of this studio. There are a total of 440 amps coming into the building. The circuits feeding the audio components are deliberately separated and placed in their own 220-amp Siemens commercial breaker box, complete with bolt-in, copper-clad circuit breakers. The second 220-amp panel feeds the security system, lights and mechanicals, including two tons of AC!
Nonetheless, despite all of the expensive audio gear and the extensive electrical work that was done in the studio, the real achievement is in the way Kevin has addressed vibration control. Not surprisingly, like the amplifiers, all of the other components were sitting on SRA Ohio Class XL+² platforms. These platforms are all "one-offs," in that they are custom designed for the specific component that they support.
Of course, each electrical component and its matching platform seemed right at home as they were displayed in two SRA Craz Reference isoRACK Plus stands. As a huge believer in vibration control, I found it all an awesome sight to see.
Lest there be any doubt, the Ohio Class platforms and Craz stands are meant for the serious audiophile. Most of the platforms range in price from $1500 to $2500. (They are, however, reconfigurable at no charge to the customer should the equipment change down the road.) The Craz stands, which require around 200 hours each to manufacture, range in price from $9000 to $17,000.
Luckily for the audiophile masses, in addition to the Ohio Class products, SRA makes several less expensive isoBASE platforms -- the VR Series. These units are known to be extremely effective while being very affordable.
According to Kevin, SRA's advanced computer modeling program assures that every SRA product meets all relevant performance criteria before shipping.
Incredibly, however, the ultimate isolation platform in Kevin's system is the studio itself. The entire building was designed on a computer and "listened to" on a virtual level prior to the time that any work began. This saved time and allowed for "on the fly" changes as more data became available during the construction process. The listening area measures 16' wide and 22' long, with a ceiling that has a two-foot soffit. The ceiling measures 9' high at the sides and 11' at the center. The floor is decoupled from the foundation using a series of SRA nano composites, as well as several other advanced materials. As with the floor, the walls sit on their own plane, which helps to keep any anomalies from leaking to the adjacent structure.
In addition to the walls and floor, SRA's advanced modeling software was also used in the design of several key items in the studio. These include a special array of angled and dampened ceiling panels, front corner based passive resonators and wall-based copper-clad, foam-filled diffusers. The largest diffuser, which sits between the amps and speakers, took six bulky guys to move into place. And last but not least, was a series of carefully placed room specific bass traps.
Of course, all of the top-end audio gear and vibration-control devices in the world are utterly useless without a decent collection of records and CDs. No worries. Kevin had on hand 25,000 of the former and 15,000 of the latter! And no, that is not a misprint. You're talking about a guy who really loves music. Interestingly, the large number of LPs that Kevin owns is, at least in small part, due to the fact that he has three or four different copies of many of the same records. The reason for this is that Kevin likes to try to find early pressings, which can often offer improved sound quality over later versions.

Photo by Robert Moore suntumoore@gmail.com
How did the system sound? Amazing. We listened mostly to LPs, a number of which I have heard many times before on many different systems. Yet it was though I was hearing them now for the first time.
By way of an example, Walter Becker's bass on the title track of Steely Dan's Aja [ABC Records AB-1006] was shockingly realistic and taut. I had simply never heard bass that was so controlled. There was not even a hint of indistinctness, bloat or overhang. The notes were also astonishingly deep. In fact, I kind of got the feeling that if the speakers could produce a note, no matter how low, this room could hold it.
It also seemed as though every percussive intonation of Steve Gadd's drumming was exposed. Wayne Shorter's saxophone undertook a liquid texture that rested on a degree of background darkness that for me was previously unknown. In fact, most of our listening time with Kevin was spent playing LPs and saying "Oh, that's the way the instrument is supposed to sound."
Just as there are no acoustically perfect components, however, there are no acoustically perfect listening rooms. Not surprisingly, subjective factors such as differences in hearing and personal taste entered the picture. If I preferred a particularly live room, with its attendant hyper-exciting sound, I wouldn't find it here. Rather, this is a place for those who treasure ultra-low noise, accuracy, focus, cohesiveness and an incredibly extended and controlled bottom end.
I would have been happy to sit in this studio listening to music well into the evening, maybe with some food and a few beers. Here's hoping that I get invited back soon. (Hint, hint.)
...Howard Kneller
howardk@soundstage.com