February 2009
Better Than CD and Sometimes Free
You say you've got a computer- or music-server-based digital music setup that can go beyond CD's 16-bit/44.1kHz resolution and you want to know where do you find high-resolution files to download and play? Here are more than a dozen sites where you can download music at better-than-CD resolution, and some of it doesn't cost a cent.
Free!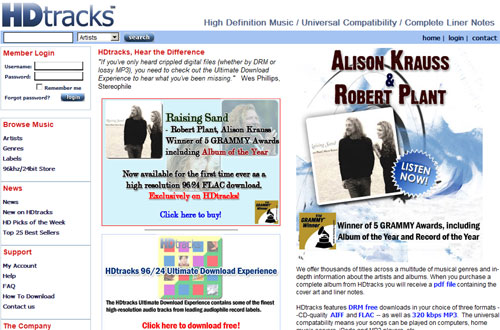 My first stop is always HDtracks. It is the best site of all for high-resolution files, especially if you are a newcomer to downloading. It is utterly simple and foolproof to use. It provides an excellent and rapidly growing library encompassing all types of music and dozens of labels, and all of the music is priced reasonably. High-resolution 24-bit/96kHz album downloads are generally $15.98, but you can download individual tracks, songs or compositions at a proportionately lower cost. With HDtracks' built-in download manager, it's a snap to get your albums. I've found HDtracks to be the fastest of all the sites, and all of the albums are DRM (Digital Rights Management) free, so you can use and play your downloads as you see fit.
You can also get your feet wet at no cost, as HDtracks offers an excellent free sampler. After the sampler, try one of the Reference Recordings or Chesky files, and you'll be hooked. It is also possible to get the free sampler at CD quality, making for an interesting comparison. HDtracks offers a number of downloads billed as CD quality, but to my ears they usually sound a little better than that. New titles and labels are added weekly.
If you enjoyed the HDtracks sampler and are still looking for more free downloads, there are other possibilities. B&W Music Club offers a few. Near the bottom of the overview page, highlighted in yellow, click on "sign up for a free three-month trial." This will give you a free EP-length download once a month for three months. If you decide join the club, the rates are very reasonable.
Another interesting and unique site offering entirely free downloads is the Live Music Archive, where you can seek out live concerts by both famous and unknown bands. All of these downloads are sanctioned by the performers, so you won't be stealing anything.You will even see a section of 24-bit FLAC downloads. This site requires patience and the spirit of discovery because there is so much music available. But if you snoop around, you can find some really good stuff, like live Dave Matthews concerts.
Getting what you pay for
Linn, which has always been an innovator in audio hardware, has a good site with high-resolution downloads. Linn's own label is featured, but the company is beginning to add some indie labels, most notably Acousence, which has released some really outstanding sonic spectaculars. You can read about them at the label's home page, though you must order the music through Linn. The Linn site offers some surround tracks and some variation in its download formats, giving you a choice of resolution and file type. I found the downloads moderately easy to get onto my computer, but the site has, at this time, no download manager, so you might need to use one of your own if you are downloading a large number of files. The site has a very good help section that explains just about everything you could possibly want to know. The only downside is that the downloads are among the most expensive.
Mark Waldrep's iTrax offers primarily AIX and 2L recordings, and it is one of the sites to list surround-sound versions as well as stereo. The selection is fairly limited, but it's unique in that all the original recordings are 24-bit/96kHz and you won't find AIX recordings as downloads anywhere else. The site has a newsletter and editorials that discuss topics of interest to those who download. The downloads are not cheap, but they are worth the price.
Chandos has just upgraded most of its titles to high resolution. The bulk of the offerings are recordings on the Chandos label, which has a choice catalog, but there are also quite a few other labels as well, including Naxos, crd, Nimbus, Saydisc, and Centaur -- over 45 labels in all. Not all of these labels' selections are available in high resolution yet, but most are and the number is growing. I downloaded a recording of Holst's The Wandering Scholar that sounded splendid. The costs are fairly high, and, because the prices are listed in British currency, they are liable to fluctuate depending on the strength of the dollar at the time you order. I found searching this site a little more difficult than some. It's easy to find a listing by composer, but within that classification it might take a little while to find a particular work.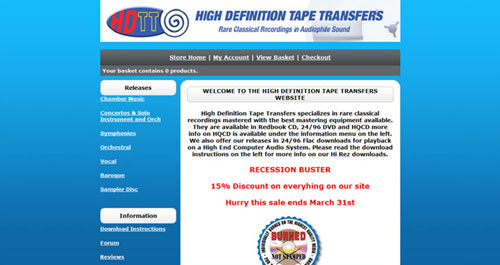 HD Giants has some good downloads and reasonable prices, but too many of the titles are not DRM free. The company is working on this, I am told. One of the best reasonably priced downloads I have found is a single title, Circus Money from Walter Becker's site. I downloaded the high-resolution file and was so impressed with it at home that I burned a CD to use in the car. I believe we will see more and more artists selling downloads direct like this.
Gimmell has only one artistic group, the Tallis Scholars, but the site offers a wide variety of formats for high-resolution downloads and the best explanation of all the sites on how the formats vary and how much time typical downloads take. Click on "downloads" for a drop-down screen that offers each type for you to click on and get complete information. The Gimmell downloads are pricey, but they are of exceptional quality.
High Definition Tape Transfers offers 24-bit/96kHz downloads created from reel-to-reel master tapes. There are some gems available at very reasonable cost. Then when you're ready for the ne plus ultra of download samples, go to Kent Poon's Design with Sound site and download the two samples from his latest jazz compilation. I've heard a lot of downloaded music, and I can tell you that it doesn't get better than this.
These just in
Here are some sites that have just come to my attention. I've not had time to check them out thoroughly, but they look exceptionally promising.
I picked the 2L release Divertimento as the best of the year for 2008. This label's recordings have always proved to be outstanding. They are available as 24-bit/96kHz files on HDtracks, but they are also available from the source, and in more varied configurations, including surround sound. There are free sample tracks you can download here as well.
The Magnatune site appears to offer the most exotic selection of them all, ranging from the American Bach Soloists to indie rock. According to the blurb, this site offers everything from MP3 to FLAC, so some of the music must be in high resolution. The site has a singular pricing policy whereby the user gets to pick the price, either on a monthly basis for unlimited downloads or per download. Fifty percent of what you spend goes to the artists.
Passionato looks like a most interesting site. It offers recordings from major labels like Deutsche Grammophon, Decca, Verve, Philips, and EMI, and all of the files are DRM free. There is a powerhouse staff -- all folks who have been successful in the recording industry for some time. This is, in my opinion, one to watch, especially because at this time only UK customers can download from it. That's sure to change.
You can probably find even more sites on your own by doing a Google search. It's not an exaggeration to say that the digital-download business is mushrooming so successfully that sites are popping up every week. In these early stages, you will find many downloads through exploration. There really is a lot of gold in those hills, so happy hunting.
...Rad Bennett
radb@soundstage.com