May 2010
The Digital Music Revolution: What Download Sites Have to Offer -- Part 14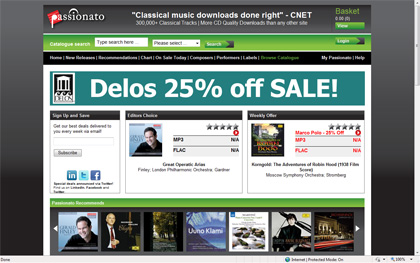 Starting back in 2008, I compiled an extensive series of articles on sites that offered digital music downloads. At first these sites seemed to pop up like mushrooms under the full moon; there was a new one every time you turned around. But after a while things slowed down, and I began to wonder whether we'd see any new ones. Enter Passionato, a very interesting site for lovers of classical music. The site has been operating in the UK and abroad for about a year, but it just opened up to US customers this past month.
Passionato operates much like most of the other download sites on the Internet. You can join at no cost and browse the site without signing in, but you'll need to select a user name and password if you want to make a purchase. Browsing is relatively simple, and you can search by performer, composer, genre, label, and more. Passionato is much more detailed than other sites, as they also list sub labels and series. Under EMI, for instance, you'll find Classics for Pleasure, Seraphim, Great Recordings of the Century, and about 50 others. If you just want to search the entire EMI catalog, you can click "hide sub labels" and they'll all be included in a mammoth whole-catalog search.
To learn more about a title, you can click on the cover for a complete description that includes the recording and release date, and often the recording location and producer. There's a tab for reviews from both customers and critics, and you can preview each track, though previews are at only 128k MP3. As with most sites, you get the best deal when you buy the whole recording, but you can also purchase individual tracks in either MP3 or FLAC. I liked that the system doesn't change screen when you add albums or tracks to your shopping cart, so you can easily continue shopping. Prices vary considerably, averaging about $11.99 for a premium title, and in all cases I found that the FLAC download cost more than the MP3. Passionato accepts major credit cards and PayPal, and the site frequently has sales on particular labels, so it's worthwhile to register and join their email list.
Currently, MP3 and FLAC are the only format choices Passionato offers. The MP3 downloads are at 320k, the highest MP3 rate, which makes them near CD quality, but the FLAC downloads are CD quality and in some cases more. I was particularly impressed with the EMI downloads. They aren't 24/96 or even 24/48, but they sounded much cleaner than my comparable CDs. I have no idea why, but I'd guess that EMI has provided exceptional masters and eliminated yet another stage in the manufacturing process.
I downloaded Sir Simon Rattle's Bournemouth Symphony recording of Mahler's gigantic Eighth Symphony, and I was impressed with the feeling of air around the massive forces required to perform the work. I also found several EMI recordings that are no longer available on CD. The Bernard Haitink recording of Bartok's Bluebeard's Castle, for instance, is $30 or more on Amazon.com, which makes the Passionato download a real bargain. The old Sir Malcolm Sargent recordings of the Gilbert and Sullivan operettas sounded better than I've ever heard them on disc. These performances arguably boast the best singers to have ever sung the roles, so it's wonderful to hear them sounding so full bodied yet detailed. All of the EMI operas I downloaded had remarkable imaging for the voices and outstanding balance between the voices and the orchestra.
Downloads from other labels sounded as good as the CDs and occasionally a little better. I was very impressed with the download of Rachmaninoff's The Bells, on the Chandos label with Neeme Jarvi conducting. The first few minutes of the opening movement, with its tinkling bells and cymbal strokes, had incredible clarity. Going from small sounds to large, the bass drum thwacks in the Dies Irae of Decca's high-voltage recording of Verdi's Requiem, with Sir Georg Solti conducting, were as impressive as anywhere else, and I've heard that recording on both vinyl and CD.
In addition to the labels already mentioned, Passionato has Naxos, DG, Philips, BIS, and many more. There's a host of smaller labels, and about the only ones missing are Sony and BMG. You'll also find soundtracks, via the Chandos series.
Passionato has its own download manger, which you can easily install, and the downloads were fairly quick. To test the manager, I downloaded a dozen titles in the same order, and the manager didn't flinch. All 12 took a little less than half an hour.
I faced a few problems, however. A few files were corrupt and wouldn't download at all. And the opening movement of the Sir Thomas Beecham recording of Haydn's The Seasons had some sound issues. If you encounter any similar problems, Passionato will find a solution for you.
I'd enthusiastically encourage everyone who downloads music to give this site a try -- especially its superb EMI titles.
. . . Rad Bennett
radb@soundstagenetwork.com