July 2007
NuForce P-9 Preamplifier
by Vade Forrester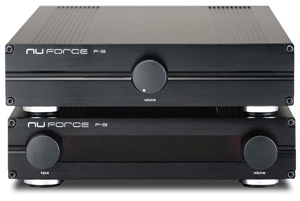 Review Summary
| | |
| --- | --- |
| Sound | "The P-9 is one of the most neutral, uncolored line-stage preamps that I've heard, lacking any of the solid-state nasties that have kept my preamp choices firmly in the tube camp." "High frequencies were clean and clear, displaying gobs of detail." "On the other end of the spectrum, the P-9's bass was just about ideal. It was very deep, powerful, fast, and detailed." "Like the legendary straight wire with gain, the P-9 sounds like whatever source component you connect to it." |
| | |
| --- | --- |
| Features | The NuForce P-9 "places all noisy circuitry (three separate power supplies and the microprocessor control logic) in a separate chassis.… The other chassis contains only analog circuitry, including a continuous ALPS volume potentiometer. The audio signal passes only through the analog chassis, safely isolated from noise." |
| | |
| --- | --- |
| Use | "On first seeing the P-9, you will wonder why it has two volume controls. The audio signal only passes through the analog volume control, which enables much finer adjustments because it's a continuous potentiometer, while the digital volume control is like a remote control for the analog pot." "In addition to being a striking design, the P-9's remote control is very easy to use, even in the dark." |
| | |
| --- | --- |
| Value | "On balance, the deHavilland Mercury 2 Remote does more of the things that communicate details of the performance in a more enjoyable way. But the P-9 was never far behind and had slightly better soundstaging and clearly better bass. Not bad for a line-stage preamp that costs over $2000 less." |
NuForce first came to my attention through its class-D switching amplifiers, which produced quite respectable power from tiny chassis. These amps are sometimes erroneously called "digital amplifiers," but they really aren't; NuForce calls them "analog switching amplifiers." Regardless of the technology, I've heard the NuForce Reference 9 amplifiers make some excellent music at shows, so it was no surprise that NuForce wanted to offer its customers a line-stage preamp befitting its Reference 9 amps. But a reference-grade line stage isn't easy to create, so NuForce hired legendary designer Demian Martin to lead the project. Martin designed some of the initial Spectral products, which were some of the earliest solid-state components that actually sounded good.
It's not unusual for a line-stage preamp to house its power supply in a separate chassis to minimize noise, but the $3150 USD NuForce P-9 goes even further: It places all noisy circuitry (three separate power supplies and the microprocessor control logic) in a separate chassis. A small window on the front of this chassis shows which input is selected and the volume setting. The other chassis contains only analog circuitry, including a continuous ALPS volume potentiometer. The audio signal passes only through the analog chassis, safely isolated from noise. The two chassis are linked via a one-meter cable terminated with D-15 connectors. It's just like the cable used to connect a VGA monitor to a computer, although, unlike with the computer-monitor connection, the P-9 uses all 15 of the cable's conductors.
The circuit is at its heart an all-discrete op-amp module. It uses a mixture of ultra-low-noise monolithic dual JFETs, specially selected VMOS FETs and very flat hFE bipolar transistors. There are no capacitors or DC-servos in the signal path. According to NuForce, "All of this is necessary to get a 5MHz power bandwidth with a S/N ratio that exceeds 100dB and over 120dB of dynamic range." NuForce has paid great attention to electrical isolation of the P-9. Heavy copper shields with internal thermal insulation and a self-contained shunt regulator are employed. The control system only sends DC to the relays and the motor of the potentiometer. The effect? A lower noise floor with the convenience of remote control.
Normally, if you told me I had to review an op-amp based line stage, I'd run away screaming. Op-amp integrated circuits have a reputation for not sounding very good, often due to the use of high negative feedback. But the NuForce P-9's op-amp circuit is discrete, so it uses op-amp circuits made from individual components, which can be of ultra-high quality.
I asked NuForce's Jason Lim how much negative feedback the P-9's circuit uses. He replied:
We don't know precisely how much feedback is used. It's not a simple arithmetic issue to calculate, since there is internal feedback at each amplifying stage and gain-tailoring circuits used at each critical point. The open loop response is tailored to give the best closed-loop performance. The internal circuit is designed for lowest noise, highest linearity and widest possible bandwidth. The feedback is used to stabilize the performance of the circuit in its application, not to create a linear circuit out of one that isn't.
On first seeing the P-9, you will wonder why it has two volume controls. NuForce calls this arrangement a "Dual Drive mechanism." The purpose of this complex arrangement is to keep noise from the digital control section away from the analog chassis. The volume control on the power supply/switching chassis, which the remote control operates, is strictly digital and has discrete steps, while the analog volume control on the other chassis, which uses the ALPS pot, is strictly analog and is continuous, not stepped. The audio signal only passes through the analog volume control, which enables much finer adjustments because it's a continuous potentiometer, while the digital volume control is like a remote control for the analog pot.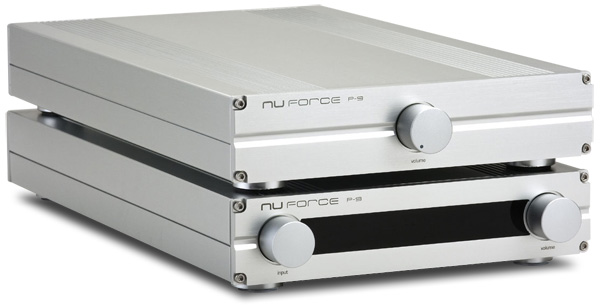 The two volume controls stay synchronized by means of the cable between the two chassis, so if you advance the volume via the remote, the digital level increases and so does the analog. If you turn the analog volume control, the digital control is also changed, and vice versa.
The P-9's innovative design produces some impressive specifications. The signal-to-noise ratio is extremely low: 100dB from 20Hz-20kHz and greater than 90dB from DC to 1MHz. Frequency response at 20Hz-20kHz is +0.02dB/-0dB; at DC to 1Mhz, +0.5dB/-0dB; and at DC-2.5 MHz, +0/-3dB. These specifications indicate that the P-9 is a very wideband design, just like Demian Martin's Spectral designs.
The maximum output is rated at 7V RMS, which easily drove my rather insensitive Atma-Sphere S-30 Mk III amplifier. Input impedance is a low 10k ohms, which would make the P-9 incompatible with sources that have high output impedances, like some tube components. A Lector CDP-7T/Mk III CD player, which has a 150-ohm output impedance, worked well with the P-9. The P-9's output impedance is a low 100 ohms, which should easily drive any amplifier with standard line-level inputs.
The P-9 has five unbalanced inputs, one of which becomes a unity-gain pass-through for home-theater use. There are two sets of output jacks: a pair of RCAs and a pair of XLRs. The P-9's circuit is not fully balanced, and the XLR jacks are also not balanced, though they do allow you to drive a balanced amplifier without adapters. If you're like me and think a phono stage is an important part of a hi-fi system, you'll be glad to know that NuForce is designing a separate phono preamp that will reportedly have an even lower noise specification than the P-9's.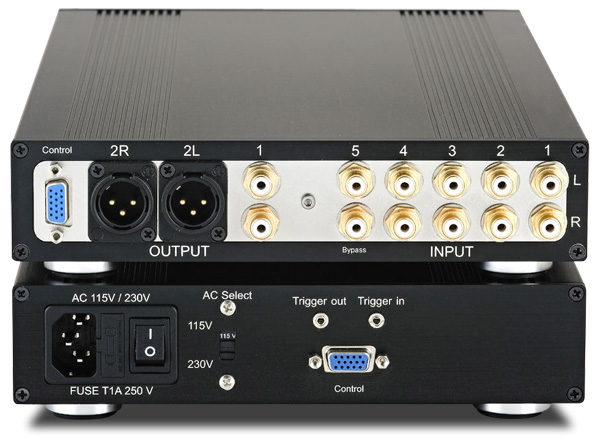 The P-9's extruded aluminum chassis comes in several colors: black, silver (the review sample's color), or a striking rose copper, which matches NuForce's Reference 9 Special Edition amplifiers. The P-9's 8 1/2"W x 1 3/4"H x 16"D 6-pound chassis are each slightly larger than those of the Reference 9 amps.
In addition to being a striking design, the P-9's remote control is very easy to use, even in the dark. A long, slender black metal wand with a hexagonal cross-section and large silver buttons on the sides and top, it's easily the classiest remote I've seen.
Setting up
I used the P-9 with both an Art Audio PX 25, a low-power single-ended-triode stereo tube amp; and an Atma-Sphere S-30 Mk. III, a medium-power output-transformerless stereo tube amp. It easily drove both and produced excellent sound with both, with one caveat. With the Art Audio amplifier, which reaches full output with a .7 volt input signal, the steps between each volume level were larger than I would have liked, so if I started with a volume setting that was too low and increased it, the P-9 would actually provide more of an increase than I wanted, giving me a volume that was then too loud. Yeah, I could have used the continuous pot on the analog chassis, but that would have negated the utility of the remote volume control. However, with the Atma-Sphere S-30 Mk. III amplifier, which requires 2.83 volts to produce full power output, the volume-control steps were just right, providing a useful increase or decrease when I changed volume from the remote.
The very well-written manual recommends a 75-hour break-in period, so I gave the P-9 about three times that much time before listening critically. The instruction manual specifies that only the stock power cord "or an equivalent" (whatever that means) be used with the P-9, but Jason Lim explained that the P-9 should work fine with any properly designed safety-agency-certified IEC power cord. Most gear nowadays comes with a cheap-looking power cord, but the P-9 ships with a thick, hefty cord that includes a filter molded in place near the IEC connector. Per my normal practice, I used the stock power cord for the review, and since it was clearly not a throwaway, I didn't try any aftermarket cords.
The P-9's low output impedance made it indifferent to the choice of interconnects. I used DNM/Reson balanced interconnects with the Atma-Sphere amp, and unbalanced DNM/Reson, Crystal Cable Piccolo, and Purist Audio Design Venustas interconnects with the Art Audio amp.
A larger display on the power-supply/digital chassis that I could see across the room would have been useful, but it would have required a taller chassis. A terminal for grounding a phono stage would also have been useful. Neither of these quibbles is significant, however.
Sound
If you've followed my reviews here on SoundStage!, you will have noticed a pattern: I review tube electronics almost exclusively. So why did the P-9 come my way? Because there is a certain wisdom to mixing and matching tube and solid-state gear in order to produce a musical outcome. The low-power amps I use exclusively can benefit greatly from the sort of clean, uncolored signal that a solid-state line stage can feed them. In turn, the beauty of the tubes can balance the more matter-of-fact sound of solid state.
How did the P-9 perform in a tube-heavy system such as mine? Well, let me put it this way: Demian Martin hasn't lost his touch. The P-9 is one of the most neutral, uncolored line-stage preamps that I've heard, lacking any of the solid-state nasties that have kept my preamp choices firmly in the tube camp. I don't mean to say that the P-9 sounded like a tube preamp; it didn't. But neither did it have any of the edgy, dry sound that some solid-state gear still exhibits.
Associated Equipment
Loudspeakers – Second ReTHM, Opera Audio Consonance M12.
Power amplifiers – Art Audio PX 25 and Atma-Sphere SA-30 Mk III stereo amps.
Preamplifier – deHavilland Mercury 2 Remote.
Digital – Meridian 508.24 and Lector CD-7T/Mk III CD players.
Analog – Linn LP12 turntable, Graham 2.2 tonearm, van den Hul Frog cartridge, Audio Research PH5 phono stage.
Interconnects – Crystal Cable CrystalConnect Piccolo, Purist Audio Design Venustas, DNM/Reson TSC.
Speaker cables – Crystal Cable CrystalSpeak Micro, Dual Connect DC-S200, Purist Audio Design Venustas, Blue Marble Audio speaker cables.
Power cords – Purist Audio Design Venustas, Blue Marble Audio Lightning.
Accessories – Walker Audio Talisman LP/CD treatment, VPI HW-16.5 record cleaner.
The P-9's high frequencies were clean and clear, displaying gobs of detail. On Songs of the Guitar [JLH Records JLH003], the P-9 portrayed the pluck and decay of the guitar strings quite clearly, while the body resonance was well integrated with the string sound. This CD has lots of extraneous noises, the sort you hear in close-up recordings of solo instruments, and the P-9 let me hear them all, whether I wanted to or not. With more complex pieces, like those with lots of massed orchestral strings, the P-9 sounded not the least bit etched or bleached. This has been an area where some solid-state preamps have failed in the past, but NuForce seems to have figured out how to retain the color and texture. While the lower treble range sounded lean, clean, and distortion-free, it was ever so slightly depressed, so that when I played Eva Cassidy's "Fields of Gold" from her Songbird CD [Blix Street Records G2-10045], the slightly raw sound of her voice when she really wails was smoothed out -- prettified.
On the other end of the spectrum, the P-9's bass was just about ideal. It was very deep, powerful, fast, and detailed. This was not the over-cooked bass some solid-state circuits produce. Rather, it was very tuneful and made instruments sound real. Rhythmic pace and timing were as good as the source permitted. My reference Meridian 508.24 is typical of English CD players, with very strong ability to push the music along, while the Italian Lector CD player emphasizes tonal richness. The P-9 made the differences between these two obvious -- and let me enjoy both. Like the legendary straight wire with gain, the P-9 sounds like whatever source component you connect to it. It is incredibly quiet, heightening its sense of transparency.
Hackneyed though the saying may be, music really does live in the midrange, and the P-9 performed very well here, sounding clean, fast, and authentic. Vocals and vocal lines were easier than usual to understand and follow. It was as if singers suddenly developed better diction. Chris Jones's performance of "God Moved on the Water" from his Roadhouses and Automobiles CD [Stockfisch Records SFR 357.6027.2] was a good example of this. The backup choral part was unusually easy to comprehend and follow. Through the P-9, strings sounded as lush and rich as anything this side of a good LP. Kudos to the P-9? No, kudos to the Lector CD-7/Mark III CD player, whose sound the P-9 passed through without editorializing.
Perhaps the P-9's crowning achievement was its soundstaging. Often, tube line stages are credited with conveying ultimate dimensionality, but the P-9 was as good in this respect as any preamp I've heard -- if not better. On the Tallis Scholars' recording of Allegri's "Miserere" [Gimell 454 939-2], the P-9 realistically depicted the large church where the recording was made, with depth being particularly well defined, and the placement of the different sections of the choir were precisely located in space. And the P-9 handled dynamic swings both large and small convincingly. On the challenging "Folia: Rodrigo Martinez" from Jordi Savall and associates' La Folia CD [AliaVox AV9805], the P-9 tracked the continuously varying loudness levels easily, and the climaxes were explosive.
On the other hand
Freshly back from deHavilland Electric Amplifier Company after being updated, my (now) $5200 Mercury 2 Remote preamp is firmly and passionately in the tube camp. The line stage has four inputs and two outputs, all via RCA jacks, which tells you that it has an unbalanced circuit. For a tube line-stage preamp, the Mercury 2 Remote is very quiet, and its 600-ohm output impedance works well with all amplifiers except those with the very lowest input impedance.
Perhaps it should have come as no surprise, but the P-9's bass was more extended and powerful than that of the Mercury 2 Remote, but the deHavilland preamp countered by conveying even more musical detail. I don't mean it goosed up the highs to fake detail; its treble was flat and smooth, possibly even a smidgen less extended than the P-9's. No, the Mercury 3 Remote just extracted more detail, producing greater information density. Instrumental timbres were more vivid and stirring, and microdynamics also seemed better defined. Nowhere was this more evident than on the "Folia: Rodrigo Martinez," where the deHavilland preamp's additional tone color and increased dynamic contrasts fleshed out the sound and elevated it from excellent to exciting.
Although the Mercury 2 Remote throws a very wide and deep soundstage, on the "Miserere" cut, the P-9 seemed to delineate horizontal placement of the choir's different sections more precisely, while the deHavilland preamp smeared them together slightly. This may seem like a small detail, but it had a musically important effect, creating a more layered, dimensional sonic picture.
On balance, the deHavilland Mercury 2 Remote does more of the things that communicate details of the performance in a more enjoyable way. But the P-9 was never far behind and had slightly better soundstaging and clearly better bass. Not bad for a line-stage preamp that costs over $2000 less.
Bottom line
A preamplifier has a tough job. At a minimum, it must take low-level signals, pass them through a selector switch and volume control, and then through one or more gain stages to produce a signal that can drive interconnects and a power amplifier, all without theoretically adding any sound of its own. Because the level of incoming signals is low (often only a fraction of a volt), a preamp must also be extremely quiet; any noise it creates will be amplified along with the signal. The volume control is also a big factor. Junky volume controls have been known to degrade a preamp's sound. Ditto poor selector switches.
Well, if the function of a line stage is to pass the signal through without changing anything except its level, then the NuForce P-9 fills the bill. The P-9's transparency is exceptional. In retrospect, this preamp's extremely low noise, colorful tonal palette, and notable dynamic prowess were really features of the products I listened to with it. That's transparency. During the P-9's stay in my system, I never once wished I was listening to a tube line stage, and I haven't been able to say that about many solid-state preamps.
Demian Martin and the folks at NuForce have produced a line-stage preamp worthy of the company's distinguished amps -- and really any amp with which you'll pair it. The P-9 is a solid-state line-stage preamp that even a confirmed tube dude like me could live with.
...Vade Forrester
vade@soundstage.com
NuForce P-9 Preamplifier
Price: $3150 USD.
Warranty: Three years parts and labor.

NuForce, Inc.
356 South Abbott Avenue
Milpitas, CA 95035
Phone: (408) 627-7859
Fax: (408) 262-6877

E-mail: salesteam@nuforce.com
Website: www.nuforce.com