December 2009
Getting It Done in Dueville: A Visit with Amedeo Schembri of Viva Audio
These past half-dozen years, I've become enamored of Italian culture -- its rich history of art from medieval times up to the present, the fabulous textures and tastes of its food, the articulate landscape of its bucolic countryside, and, most of all, the manner in which all of Italian culture seems subtly interfused with every event that takes place there. For example, the lavishly delicate taste of a spiny, spotted fish called the San Pietro (Zeus faber, aka St. Pierre, aka John Dory), usually caught in deep Mediterranean waters, recalled to me the 16th-century architecture of Andrea Palladio -- I'd spent the morning before this luncheon crisscrossing Vicenza by car, stopping to gaze at a magnificent villa in the hills above, then to admire grand façade of an ancient civic building, and finally to circumambulate a palazzo's imposing rotunda. I felt the boulevards and pedestrian walkways of the Centro Storico as I ate the San Pietro, named after the apostle Peter, who became a fisher of men, and as I tasted the freshness of the Pinot Grigio, like a liquefied autumn morning ordered up by my Italian host. The Italians have a certain way of integrating and enjoying life. "They takes they time," as a basketball player said to me once, an American forward in the Italian pro league, while we spoke on a trans-Atlantic flight. "And they likes they food slow." The best reproduced sound is like this -- subtly interfused with the tactile splendors of the music, all to be slowly savored, as one might a fine meal.

Amedeo Schembri of Viva Audio.
I recently experienced such a day in Veneto, the Northeast region of Italy that comprises the area from around Venice to Verona; at a restaurant in Bassano-di-Grappa, with its wooden bridge (designed by Palladio) spanning the Grappa River; and at the home of Amedeo Schembri, chief designer of Viva Audio.
Viva has become well known not only for its superb tube electronics, including zero-feedback single-ended-triode (SET) amplifiers with point-to-point wiring, but also for great industrial design featuring custom automotive paints and bold, M-shaped chassis that never fail to impress, visually and sonically. I'd been curious about Viva ever since I first heard their 28Wpc Solista integrated amplifier in a showroom some years ago, and since then have checked out their gear at every national and international trade show I've attended. I've never been disappointed.
"It's about the sound," Schembri said as he poured red wine into my glass, watching it swirl and spume up inside the hiplike curves of the glass's bell, then settle back before he finished pouring. We were having lunch outside, under a latticed arbor of curling vines, the warm noonday sun seeming to light everything from within. "You can research and discuss and make up any kind of surrrkits, but you must test this against the ears to be sure you are not crazy, and you get somethings that is music, and not just some noise from Electric Street."
We'd driven a few miles from Schembri's home in Dueville, a new, residential suburb of Vicenza, to a lovely restaurant at the end of a church street on the outskirts of Bassano. My wife, Shelly, and our four-year-old daughter, Annalena, had come along, and we were joined by Joelle De Jaegher, an accomplished and busy architect and Schembri's fiancée. It's Joelle who's responsible for the sleek, postmodern look and vibrant automotive colors of Viva's electronics. As we spoke, Schembri took photos with a vintage Contax rangefinder -- a film camera. For a youngish man -- I guess him to be no more than 45 -- he has a definitive way of speaking; an insistent, discriminating manner of expression that I've found characteristic of many accomplished audio engineers. He spoke authoritatively about cameras -- SLRs, rangefinders, digital vs. film.
Our talk was also of schools, of the fine dishes we were eating -- linguini nere, a pasta rendered black by the inclusion of squid ink; the homey regional dish bacalà, a dried cod reconstituted in milk; and a delicious astiche, or lobster -- and of audio. De Jaegher encouraged us to send Annalena to an Italian school during a long stay in Italy we're planning for 2011 -- something she'd done herself as a child, after moving here from Belgium with her parents.

Schembri's living-room system, complete with Quad ESL-57 loudspeakers.
Lunch concluded two hours later (they takes they time) and we split up, De Jaegher returning to her work designing a chain of boutique shops, Shelly and Annalena driving to Vicenza to shop, and Schembri and I driving, in his Volvo, back to Dueville. First, in his living room, he showed me a simple, straightforward system built around a pair of vintage Quad ESL-57 speakers powered by conventional, solid-state electronics. Then he ushered me downstairs into his basement -- he calls it il stregone, the sorcerer's den -- where we were to hear what he called his "experimental system." But then Schembri turned hesitant, humble, even worried.
The basement was no artfully decorated, palatial listening room, but a crowded warren of speakers and electronics at one end, overlapping area rugs amidships, and, at the other end, racks of LPs, stacks of CDs, stools, folding chairs, and a fat, worn easy chair. Light streamed through a row of papered-over windows that tilted open over a long bench strewn with electronics, and spider webs of wires spread into every cranny and corner. This indeed was Schembri's workshop: eight prototype tube amps laid out on four unfinished chassis (two per channel), their transformers exposed; an assortment of speakers made by hand and scrounged from history; and a Frankenstein's machine of an analog rig, comprising a Lenco drive, a custom turntable, a 12" Ikeda 437 tonearm, and a Transfiguration Orpheus cartridge. His CD player was a Viva prototype too. This was a two-channel, eight-amped, four-way system.
"We are making our own speakers, and these new amplifiers, as well," Schembri said, gesturing to a large stack in the front right corner. He declared that he was studying the influence of power supplies on the various amps. Then he explained that the speaker array consisted of a 15" woofer shared by both channels; two unfinished, handmade midbass horns; a pair of old Vitavox midrange horns (the black beehive famously used by Pink Floyd); and, finally, two magnesium tweeters from Fostex. Tucked behind each speaker stack were the amplifiers: each chassis housed two amps, 845 output tubes driven by 211 tubes. It seemed a system almost better suited to a concert than a listening room -- each speaker stack was larger than a conventional home entertainment center. But I reserved judgment. It's all about the sound, I reminded myself.
Schembri put on Miles Davis's Kind of Blue -- "The original," he proudly announced. What I heard were pleasingly saturated notes, fulsome timbres, and distinct separation of the soloists -- John Coltrane's tenor sax on the left, Cannonball Adderley's alto on the right, Miles's trumpet emerging out of sweet silences. But, I thought, sweet and susurrous though it was, this was still small-combo jazz -- no sweat. After all, I'd heard this recording sound good in small rooms with First Watt solid-state amps and single-driver Fostex horns.
Then, no longer shitting around, Schembri brought out a recording I did not know -- Mussorgsky's Boris Godunov, with Herbert von Karajan conducting the Vienna Philharmonic. I'd often read about this opera but had never heard it. Boy, was I in for it. Nicolai Ghiaurov's bass voice was so stunning, rich, and powerful, that, I have to say, I'd never heard anything like it before -- except in concert. Schembri's experimental system reproduced the entire range of Ghiaurov's bass without any "letterboxing" -- that is, the bottom wasn't lost to murk or imagination; the sweet, sub-tenor top wasn't etched, and caused no ring or overhang; and all vocal harmonic overtones were rendered with breadth, equanimity, and on time. To say it sounded "realistic" seems silly, to say it was "musical" even sillier. It was emotional -- thrilling.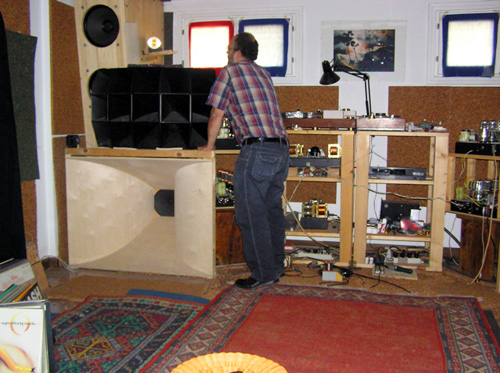 Schembri adjusting the big rig.
"Like life?" Schembri asked.
"No," I said, "like art."
And so it was with recording after recording, through the entire afternoon: a chromatic density to the piano and effortless orchestral crescendi with Sviatoslav Richter's recordings of Beethoven's piano concertos with Charles Munch and the Boston Symphony; smooth, rich, full-bodied choral voices from René Clemencic and his Clemencic Consort in selections from the original medieval manuscript of Carmina Burana on which Carl Orff based his famous modern version; and delightful, three-dimensional bells on a recording of ancient Greek music.
Most impressive of all was a recent recording of Stravinsky's The Rite of Spring, performed by Valery Gergiev and the Kirov Theater Orchestra (CD, Philips 468 035-2). This was my disc, one of about a dozen I'd brought along on this trip. Through Schembri's system, the sweet percolations of the woodwinds were exquisite and sensuous, each instrument clear and distinct not only in image, but in timbre. The fanfares burst with dynamics and tonal colors. I put my pen aside and just listened through the whole thing.
For dolce (dessert), I asked Schembri to put on Renée Fleming's eponymous disc of famous arias, with Sir Charles Mackerras leading the London Philharmonic (CD, Decca 467 049). The Viva system gave her voice more of an old-timey feeling to me, sounding more midrangey and embodied -- sweeter and more pure somehow, with less emphasis on the top notes than in the pentode sound I'm used to from my own reference system; more relaxed, yet still uncommon.
"And so, do you discover life -- the Viva sound?" Schembri asked.
"Certo," I said. Of course.
We then went upstairs, where Schembri helped me figure out how to accomplish my family's next adventure: a trip to see the Giotto frescoes at the Scrovegni Chapel in Padua, about an hour away. What I remember is a precise combination of different qualities of light -- the illumination from the screen of Schembri's laptop falling across his bearded face, the warm infusions of late-afternoon sunlight slanting in from outside to penetrate each moment as if it were sound from a more articulate traffic in the street.
. . . Garrett Hongo
garretth@soundstage.com